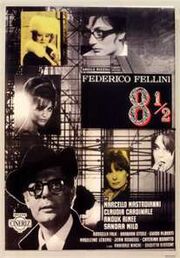 #413. 8 1/2
Year: 1963
Country: Italy/France
Language: Italian/English/French
Production: Cineriz, Francinex, 145m B&W
Director: Frederico Fellini
Producer: Angelo Rizzoli
Screenplay: Frederico Fellini, Ennio Flaiano, Tullio Pinelli, Brunello Rondi
Photography: Gianni Di Venanzo
Music: Nino Rota
Cast: Marcello Mastroianni, Claudia Cardinale, Anouk Aimée, Sandra Milo
Oscar Wins: Best Costume Design, Best Foreign Language Film
Oscar Noms: Best Director, Best Screenplay, Best Art Direction
Abridged Book Description
The images of Frederic Fellini's 8 1/2 remain, and the sounds as well (a pity for those who have never heard the film in its original, though so artificial, Italian). The picture stands as a testimony to an icon of the European Baroque at the midpoint of the 20th century. it is also one of the most brilliant, imaginative, and funny movies of its time... The film represents a major step forward in cinema's march toward modernity, one of the most inventive constructions of a mirror reflection on the creative act itself... With its magnificent black and white look, its geometric and non-realistic framing, and its suggestive use of sounds and images, 8 1/2 does not elaborate a thesis on the state of the art or engage in psychoanalytic investigation. Instead, it opens a window inside each and every one of us, artist or not, man or woman.
Community content is available under
CC-BY-SA
unless otherwise noted.