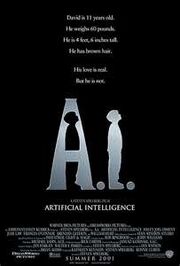 #1037.
A.I.: Artificial Intelligence
Year: 2001
Country: USA
Production: British Lion, London, 146m
Director: Steven Spielberg
Producer: Kathleen Kennedy, Steven Spielberg, Bonnie Curtis
Screenplay: Steven Spielberg, from short story by Brian Aldiss
Photography: Janusz Kamiński
Music: John Williams
Cast: Haley Joel Osment, Jude Law, Frances O'Connor, Sam Robards, Jake Thomas, William Hurt
Oscar Noms: Best Visual Effects, Best Original Score
Abridged Book Description
Underlying questions such as "What makes us real?" and "Is it the capacity to love and be loved that makes us human?" make this one of the most thought-provoking, and definitely darkest, films of Spielberg's career.
Community content is available under
CC-BY-SA
unless otherwise noted.