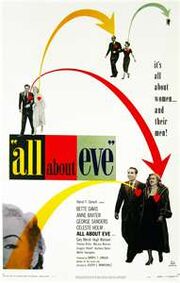 #237.
All About Eve
Year: 1950
Country: USA
Production: Fox, 138m B&W
Director: Joseph L. Mankiewicz
Producer: Darryl F. Zanuck
Screenplay: Joseph L. Mankiewicz, from short story by Mary Orr
Photography: Milton R. Krasner
Music: Alfred Newman
Cast: Bette Davis, Anne Baxter, Geroge Sanders, Celeste Holm, Gary Merrill, Hugh Marlowe, Thelma Ritter
Oscar Wins: Best Picture, Best Director, Best Supporting Actor, Best Screenplay, Best Costume Design
Oscar Noms: Best Actress (Davis, Baxter), Best Supporting Actress (Holm, Ritter), Best Cinematography, Best Editing, Best Art Direction, Best Original Score
Cannes Film Festival: Special Jury Prize, Best Actress (Davis)
Abridged Book Description
Considered one of the sharpest and darkest films ever made about show business, Joseph L. Mankiewicz's 1950 drama was taken from a 1946 Cosmopolitan magazine short story called "The Wisdom of Eve," which was also made into a radio production. Avoided by other studios for four years, the combination of Mankiewicz's cynical, witty screenplay, and a high-caliber cast transformed the story into an enormous cinematic success... Having also won an Oscar in 1949 for A Letter to Three Wives, some see Mankiewicz's victory in All About Eve as final vindication of his talent in comparison to brother Herman, who won the Best Original Screenplay Oscar for Citizen Kane. That debate aside, All About Eve is widely considered to be the crowning achievement in Davis' lengthy career.
Community content is available under
CC-BY-SA
unless otherwise noted.