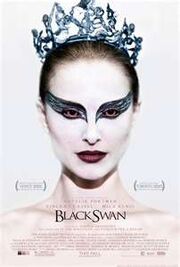 #1126. Black Swan
Year: 2010
Country: USA
Language: English/French
Production: Protozoa, Phoenix, Fox Searchlight, 108m
Director: Darren Aronofsky
Producer: Ari Handel, Scott Franklin, Mike Medavoy, Arnold Messer, Brian Oliver
Screenplay: Mark Heyman, Andres Heinz, John McLaughlin
Photography: Matthew Libatique
Music: Clint Mansell, Tchaikovsky
Cast: Natalie Portman, Vincent Cassel, Mila Kunis, Barbara Herskey, Winona Ryder
Oscar Wins: Best Actress
Oscar Noms: Best Picture, Best Director, Best Cinematography, Best Editing
Abridged Book Description
Darren Aronofsky's award-winning psychological thriller is the study of a young woman's all-consuming ambition and the transformation she must undergo to achieve success... Aronofsky's unique vision implies that there can be no true greatness without touching the darkest parts of existence, and he makes this all too clear through highly subjective storytelling reminiscent of Roman Polanski's Rosemary's Baby (1968). Lines of reality and hallucination blue as we follow Nina's sprawling hysteria... Something of a cinematic opera is achieved by Aronofsky as he marries the screenplay and the story of the original ballet, written by Tchaikovsky.
Community content is available under
CC-BY-SA
unless otherwise noted.