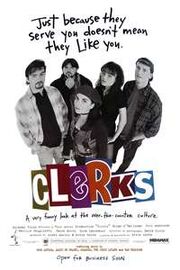 #915.
Clerks
Year: 1994
Country: USA
Production: Miramax, View Askew, 92m B&W
Director: Kevin Smith
Producer: Scott Mosier, Kevin Smith
Screenplay: Kevin Smith
Photography: David Klein
Music: Scott Angley
Cast: Brian O'Halloran, Jeff Anderson, Marilyn Ghigliotti, Lisa Spoonhauer, Jason Mewes, Kevin Smith
Cannes Film Festival: Youth Foreign Award, Mercedes-Benz Award
Abridged Book Description
Writer/director Kevin Smith stepped forward in 1994 as the most promising Generation X newcomer with this impressive debut film... Shot in black-and-white, the $27,500-budget movie was filmed over 21 days at the QuickStop Groceries store where Smith has worked since he was 19, and where he edited the film each night.
Community content is available under
CC-BY-SA
unless otherwise noted.