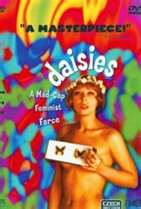 #468.
Daisies (Sedmikrasky)
Year: 1966
Country: Czechoslovakia
Language: Czech
Production: Asociace Českých Filmových Klubů, 74m
Director: Věra Chytilová
Producer: Rudolf Hájek
Screenplay: Graham Greene
Photography: Věra Chytilová
Music: Jiří Šlitr, Jiří Šust
Cast: Ivana Karbanová, Jitka Cerhová, Marie Češková, Jiřina Myšková, Marcela Březinová
Abridged Book Description
Surely one of the most exhilarating stylistic and psychedelic cinematic explosions of the 1960s, Věra Chytilová's Daisies is a madcap and aggressive feminist farce that explodes in any number of directions... This disturbing yet liberating tour de force shows what this talented director can do with freedom.
Community content is available under
CC-BY-SA
unless otherwise noted.