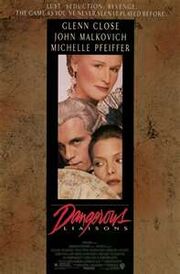 #822.
Dangerous Liaisons
Year: 1988
Country: USA/Great Britain
Production: Warner Bros, 119m
Director: Stephen Frears
Producer: Norma Heyman, Hank Moonjean
Screenplay: Christopher Hampton, from play by Christopher Hampton
Photography: Phillippe Rousselot
Music: George Fenton
Cast: Glenn Close, John Malkovich, Michelle Pfeiffer, Swoosie Kurtz, Keanu Reeves, Mildred Natwick, Uma Thurman, Peter Capaldi
Oscar Wins: Best Screenplay, Best Art Direction, Best Costume Design
Oscar Noms: Best Picture, Best Actress, Best Supporting Actress, Best Original Score
Abridged Book Description
Christopher Hampton translated his own acclaimed play Les Liaisons Dangereuses into Dangerous Liaisons, a sumptuous, decadent drama of 18th-century French sexual intrigue, brought to life on screen by director Stephen Frears... frears leads us into the boudoirs and drawing rooms of the wealthy aristocracy, each one dripping with elegance and wickedness in equal measure... A handsome look at lust, betrayal, and guilt, Dangerous Liaisons is both lavishly mounted and beautifully portrayed.
Community content is available under
CC-BY-SA
unless otherwise noted.