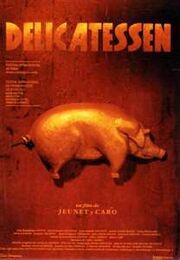 #871.
Delicatessen
Year: 1991
Country: France
Language: French
Production: Constellation, Hachette, Sofinergie, UGC, 99m
Director: Marc Caro, Jean-Pierre Jeunet
Producer: Claudie Ossard
Screenplay: Gilles Adrian, Marc Caro, jean-Pierre Jeunet
Photography: Darius Khondji
Music: Carlos D'Alessio
Cast: Dominique Pinon, Marie-Laure Dougnac, Jean-Claude Dreyfus, Karin Viard
Abridged Book Description
Creatively combining genres - postapocalyptic sci-fi, black comedy, and sweet romance - and offering audiences an impressively oddball collection of sounds, colors, actors, and images, Jean-Pierre Jeunet and Marc Caro's inspired film Delicatessen was the recipient of several European awards... With an eccentric screenplay by comic-book writer Gilles Adrian, and a number of darkly humorous set pieces, Delicatessen is a feast for the eyes and ears.
Community content is available under
CC-BY-SA
unless otherwise noted.