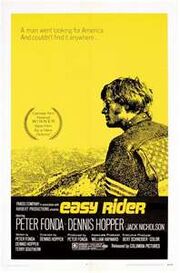 #518. Easy Rider
Year: 1969
Country: USA
Language: English/Spanish
Production: Columbia, Raybert, Pando, 94m
Director: Dennis Hopper
Producer: Peter Fonda
Screenplay: Peter Fonda, Dennis Hopper, Terry Southern
Photography: Laszlo Kovacs
Music: Roger McGuinn
Cast: Peter Fonda, Dennis Hopper, Jack Nicholson
Oscar Noms: Best Supporting Actor, Best Screenplay
Cannes Film Festival: Best First Work, Golden Palm Nomination
Abridged Book Description
This seemingly inconsequential narrative proved to be one of the seminal films of the post-1968 generation of Hollywood, one of the first to put "the alternative society" on the screen... Easy Rider challenged much of the conventional Hollywood wisdom. It's a film by and for the young (Hopper was only 32 when he directed it), with music by such stalwarts of the counterculture as Steppenwolf, Jimi Hendrix, and Bob Dylan. None of the principals were big stars. The narrative is as freewheeling as the characters. There's no conventional love story, and the film has a brutally unhappy ending. Made for very little money, Easy Rider was a huge box-office success. It helped pave the way for works that challenged conventional Hollywood ideas, including further Jack Nicholson vehicles.
Community content is available under
CC-BY-SA
unless otherwise noted.