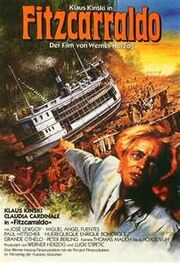 #713. Fitzcarraldo
Year: 1982
Country: West Germany/Peru
Language: English/German
Production: Autoren, Wildlife, ZDF, 158m
Director: Werner Herzog
Producer: Werner Herzog, Lucki Stipetić
Screenplay: Werner Herzog
Photography: Thomas Mauch
Music: Popol Vuh
Cast: Klaud Kinski, Claudia Cardinale, José Lewgoy, Miguel Ángel Fuentes, Paul Hittscher, Huerequeque Enrique Bohórquez
Cannes Film Festival: Best Director, Golden Palm Nomination
Abridged Book Description
It is difficult to address Fitzcarraldo without first delving into the obsessive bent of its director Werner Herzog as well as his confounding collaboration with frequent (and frequently inscrutable) star Klaus Kinski. Their working relationship was predicated on mutual antagonism and outright aggression tempered by a mutual admiration, and that contradiction regularly manifested itself in their confrontational efforts... Fittingly, or perhaps typically, making a film depicting such a near-impossible feat encumbered by almost insurmountable obstacles indeed turned out to be an ordeal itself. It didn't help that Herzog approached the project with every bit the stubborn madness of his titular character... As the steamboat is dragged uphill, against all odds, Kinski's Fitzcarraldo stands on the top deck, beaming, as his Victrola blasts opera singer Enrico Caruso. It's a sight as surreal as it is inspiring, simultaneously announcing an accomplishment that is both dramatic (in terms of the narrative) and impressively tactile (in terms of filmmaking).
Community content is available under
CC-BY-SA
unless otherwise noted.