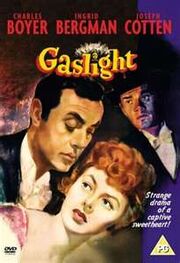 #179.
Gaslight
Year: 1944
Country: USA
Production: MGM, 114m B&W
Director: George Cukor
Producer: Arthur Hornblow, Jr.
Screenplay: John Van Druten, Walter Reisch, John L. Balderston, from the play by Patrick Hamilton
Photography: Joseph Ruttenberg
Music: Bronislaw Kaper
Cast: Charles Boyer, Ingrid Bergman, Joseph Cotton, Dame May Whitty, Angela Lansbury
Oscar Wins: Best Actress, Best Art Direction
Oscar Noms: Best Picture, Best Actor, Best Supporting Actress, Best Screenplay, Best Cinematography
Abridged Book Description
George Cukor's Hollywood version of an earlier British gothic romance is heavy on threatening atmosphere, with a spine-chilling thriller plot... While Gaslight's plot is somewhat thin, Cukor draws fine performances from an ensemble cast, including newcomer Angela Lansbury as a saucy servant who, like everything and everyone else in the house, seems to be plotting against its ostensible mistress. With its evocation of persecution and paranoia, Gaslight makes an elegant period-piece companion to the film noir series then featured by Hollywood.
Community content is available under
CC-BY-SA
unless otherwise noted.