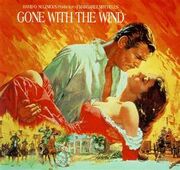 #133.
Gone With the Wind
Year: 1939
Country: USA
Production: Selznick, 222m Technicolor
Director: Victor Fleming, George Cukor
Producer: David O. Selznick
Screenplay: Sidney Howard, from novel by Margaret Mitchell
Photography: Ernest Haller
Music: Max Steiner
Cast: Clark Gable, Vivien Leigh, Leslie Howard, Olivia de Havilland, Hattie McDaniel
Oscar Wins: Best Picture, Best Director, Best Actress, Best Supporting Actress (McDaniel), Best Screenplay, Best Art Direction, Best Cinematography, Best Editing; Honorary Award for use of color, Technical Achievement Award
Oscar Noms: Best Actor, Best Supporting Actress (de Havilland), Best Score, Best Sound Mixing, Best Special Effects
Abridged Book Description
Conceived from the outset as the ultimate Hollywood movie, Gone with the Wind became the benchmark for popular epic cinema for decades to come. Though the film is monumental enough to be beyond criticism, most of its really great scenes come in the first half, which was substantially directed by Cukor, who brought his skilled touch with character and nuance to the material with a great epic sweep. Fleming, meanwhile, best known for directing macho action, somehow wound up handling the soapier stretches as the leads' marriage falters through postbellum ups and downs far less compelling than the war-torn cross-purposes romance that got them together... Dressed up with gorgeous 1939 Technicolor, pastel-pretty for the dresses and blazing red for the passions, and a thunderous Max Steiner score, this still has a fair claim to be considered the last word in Hollywood filmmaking.
Community content is available under
CC-BY-SA
unless otherwise noted.