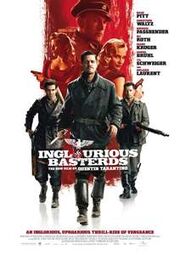 #1123.
Inglourious Basterds
Year: 2009
Country: USA/Germany
Language: English/German/French/Italian
Production: A Band Apart, Babelsberg, Weinstein, Universal, 153m
Director: Quentin Tarantino
Producer: Lawrence Bender
Screenplay: Quentin Tarantino
Photography: Robert Richardson
Cast: Brad Pitt, Christoph Waltz, Michael Fassbender, Eli Roth, Diane Kruger
Oscar Wins: Best Supporting Actor
Oscar Noms: Best Picture, Best Director, Best Screenplay, Best Cinematography, Best Editing, Best Sound Editing, Best Sound Mixing
Cannes Film Festival: Best Actor, Golden Palm Nomination
Abridged Book Description
Inglourious Basterds is a wholly unnerving masterwork from director Quentin Tarantino. Unique, engaging and outrageous, it fits within Tarantino's oeuvre while standing out as quite possibly his greatest film. Impeccably directed, the movie evokes so much emotion with the simplest of things: the mood for an entire scene is set by a cigarette being poked inside a pastry, for example, or a captured SS officer's face standing out pale white against an almost painfully bright sky.
Community content is available under
CC-BY-SA
unless otherwise noted.