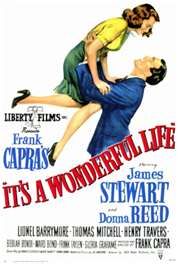 #199. It's a Wonderful Life
Year: 1946
Country: USA
Production: Liberty, RKO, 130m B&W
Director: Frank Capra
Producer: Frank Capra
Screenplay: Frances Goodrich, from the short story by Philip Van Doren Stern
Photography: Joseph Walker
Music: Dimitri Tiomkin
Cast: James Stewart, Donna Reed, Lionel barrymore, Henry Travers, Thomas Mitchell
Oscar Noms: Best Picture, Best Director, Best Actor, Best Editing, Best Sound Mixing
Abridged Book Description
Frank Capra's first postwar film revels unashamedly in the goodness of ordinary folks as well as the value of humble dreams, even if they don't come true. Based on The Greatest Gift, a short story written on a Christmas card by Philip Van Doren Stern, the film's vital leading role of a young man saddled by responsibility was almost turned down by war-weary James Stewart... By the 1960s, the film's copyright expired which opened the floodgates for a "public domain" version to be circulated for cheap and frequent television broadcast. Repeated heavily around the holiday season, it became a mainstay of wholesome family viewing. As an emotional touchstone for several generations, public broadcasting stations in the 1970s cemented the film's reputation of quality by scheduling it against the commercial networks' crass and materialistic holiday fare... Almost sixty years later, It's a Wonderful Life remains a holiday favorite for its uplifting message tempered by a foreboding notion of "what if."
Community content is available under
CC-BY-SA
unless otherwise noted.