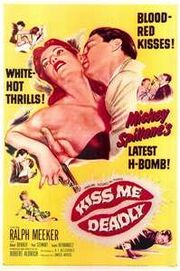 #308. Kiss Me Deadly
Year: 1955
Country: USA
Production: Parklane, United Artists, 106m B&W
Director: Robert Aldrich
Producer: Robert Aldrich
Screenplay: A.I. Bezzerides, from novel by Mickey Spillane
Photography: Ernest Laszlo
Music: Frank de Vol
Cast: Ralph Meeker, Maxine Cooper, Albert Dekker, Paul Stewart, Cloris Leachman
Abridged Book Description
Kiss Me Deadly is a thick-ear masterpiece, wrenched by director Robert Aldrich and screenwriter A.I. Bezzerides from Mickey Spillane's trash novel, shot through with poetry ("Remember Me" by Christina Rosetti), unspeakable violence (the kicking naked legs of a woman tortured vaginally with a pair of pliers), hopped-up street talk ("3D-Pow! Va-va-voom!"), strange characters, and fringe-fantastical elements.
Community content is available under
CC-BY-SA
unless otherwise noted.