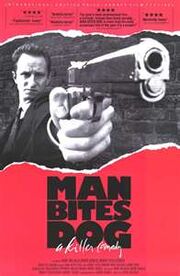 #885. Man Bites Dog (C'est arrivé près de chez vous)
Year: 1992
Country: Belgium
Language: French
Production: Artistes Anonymes, 92m B&W
Director: Rémy Belvaux, André Bonzel, Benoît Poelvoorde
Producer: Rémy Belvaux, André Bonzel, Benoît Poelvoorde
Screenplay: Rémy Belvaux, André Bonzel, Benoît Poelvoorde, Vincent Tavier
Photography: André Bonzel
Cast: Benoît Poelvoorde
Cannes Film Festival: SACD Award - Best Youth Feature
Abridged Book Description
Man Bites Dog is probably the most controversial film in the history of Belgian cinema. It rose to instant fame after critics all over the world denounced its portrayal of on-screen violence, linking it to contemporary films such as Reservoir Dogs (1992) and Henry: Portrait of a Serial Killer (1990)...Shot in grainy black-and-white stock, employing handheld camera work and direct sound (there is no music), Man Bites Dog has the look of a cinéma vérité documentary... According to the creators of Man Bites Dog, the idea for the film stemmed from a Belgian tabloid journalism TV series, one which blew small stories out of proportion and intruded on people's private lives. This underlying concept helped guarantee the film's success, and secured its status as an all-time cult favorite.
Community content is available under
CC-BY-SA
unless otherwise noted.