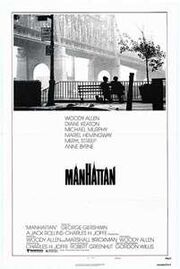 #675. Manhattan
Year: 1979
Country: USA
Production: United Artists, Rollins & Joffe, 96m B&W
Director: Woody Allen
Producer: Charles H. Joffe
Screenplay: Woody Allen, Marshall Brickman
Photography: Gordon Willis
Music: George Gershwin
Cast: Woody Allen, Diane Keaton, Michael Murphy, Mariel Hemingway, Meryl Streep, Anne Byrne
Oscar Noms: Best Supporting Actress, Best Screenplay
Abridged Book Description
Satiric and lovely, Manhattan is the rapturous high point of Woody Allen's on-screen love affair with New York City and even opens like an expressive Valentine, with an affectionate montage of city images. His 1977 film Annie Hall won the major prizes, but this bittersweet follow-up film is the perfect balancing act between wry, screamingly good wit and well-aimed wounds.
Community content is available under
CC-BY-SA
unless otherwise noted.