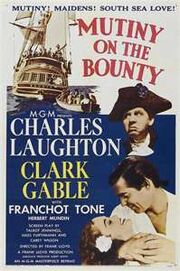 #94. Mutiny on the Bounty
Year: 1935
Country: USA
Production: MGM, 132m B&W
Director: Frank Lloyd
Producer: Frank Lloyd, Irving Thalberg
Screenplay: Talbot Jennings, Jules Furthman, from the book by Charles Nordhoff & James Hall
Photography: Arthur Edeson
Music: Herbert Stothart
Cast: Charles Laughton, Clark Gable, Franchot Tone, Movita, Mamo Clark
Oscar Wins: Best Picture
Oscar Noms: Best Director, Best Screenplay, Best Actor (Laughton, Gable, Tone), Best Editing, Best Score
Abridged Book Description
Epitomizing the classic Hollywood spirit, Frank Lloyd's Mutiny on the Bounty is a masterwork of studio moviemaking. The film's spare-no-expense canvas, travelogue quality, and moral center result in an adventure tale of remarkable beauty... Gable appears without his moustache, and Laughton's bee-stung lips flutter with harsh discipline. In between are a number of nominal subplots, though in the end the film is perhaps most memorable as an early high-water mark for the art of production design.
Community content is available under
CC-BY-SA
unless otherwise noted.