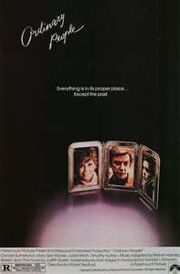 #684. Ordinary People
Year: 1980
Country: USA
Production: Paramount, 124m
Director: Robert Redford
Producer: Ronald L. Schwary
Screenplay: Alvin Sargent, Nancy Dowd, from book by Judith Guest
Photography: John Bailey
Music: Marvin Hamlisch
Cast: Donald Sutherland, Mary Tyler Moore, Timothy Hutton, Judd Hirsch, Elizabeth McGovern
Oscar Wins: Best Picture, Best Director, Best Supporting Actor (Hutton), Best Screenplay
Oscar Noms: Best Actress, Best Supporting Actor (Hirsch)
Abridged Book Description
It is still a source of indignation to some that Robert Redford's beautifully crafted and measured directorial debut should have bested Martin Scorsese's Raging Bull in the Academy Awards, taking the honors for Best Picture and Director... But those who don't "get" this movie are missing a remarkably fine, intimate personal drama about people unable to articulate the truth of their inner lives. Understandably, its appeal proved strongest in the United States, where its impressive commercial showing reflected 1980s America's receptiveness to the subject of getting in touch with one's feelings.
Community content is available under
CC-BY-SA
unless otherwise noted.