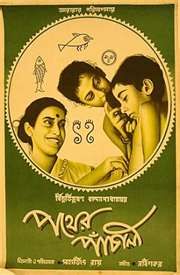 #297. Pather Panchali
Year: 1955
Country: India
Language: Bengali
Production: Government of West Bengal, 115m B&W
Director: Satyajit Ray
Screenplay: Satyajit Ray, from the novel by Bibhutibhushan Bandopadhyay
Photography: Subrata Mitra
Music: Ravi Shankar
Cast: Subir Banerjee, Kanu Banerjee, Karuna Banerjee, Uma Dasgupta,Chunibala Devi
Abridged Book Description
based on a classic novel by the Bengali writer Bibhutibhushan Bandopadhyay, Pather Panchali, Satyajit Ray's first film, was eventually to form part of a trilogy... Ray, who was working in a Calcutta advertising agency at the time, had great difficulty in raising the money to make this film. Eventually he borrowed enough to begin shooting, in the hopes that the footage would persuade backers to help him complete it. Though filming initially began in October 1952, it was not until early in 1955 that Pather Panchali was at last finished... Ray's mise en scène has great delicacy, capable of expressing both strong emotion and lyrical delight. Few will forget the sequence in which Apu and Durga hear the sound of the traveling sweets seller. Though they have no money to buy, they trot along behind him, followed in turn by a curious dog; the little procession is reflected in a pool of water.
Community content is available under
CC-BY-SA
unless otherwise noted.