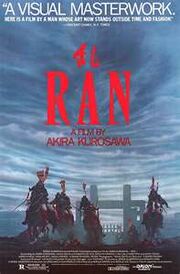 #755. Ran
Year: 1985
Country: Japan/France
Language: Japanese
Production: Greenwich, Herald Ace, Nippon Herald, 160m
Director: Akira Kurosawa
Producer: Katsumi Furukawa, Serge Silberman, Masato Hara, Hisao Kurosawa
Screenplay: Akira Kurosawa, Hideo Oguni, Masato Ide, from play by William Shakespeare
Photography: Asakazu Nakai, Takao Saitō, Masaharu Ueda
Music: Tōru Takemitsu
Cast: Tatsuya Nakadai, Mieko Harada
Oscar Wins: Best Costume Design
Oscar Noms: Best Director, Best Cinematography, Best Art Direction
Abridged Book Description
Ran was made at the time Akira Kurosawa was turning 75 years of age. It is important to understand the wisdom and artistry that those years brought to the creation of this film, quite possibly one of the greatest ever made... Kurosawa is unsurpassed in his mastery of film technique, and Ran's battle sequences are unequaled to this day. They are like a cinematic ballet, violent and bloody yet filled with tremendous beauty... Ran displays the wisdom of a lifetime in a "mere" two hours and forty minutes, during which time itself is simply suspended.
Community content is available under
CC-BY-SA
unless otherwise noted.