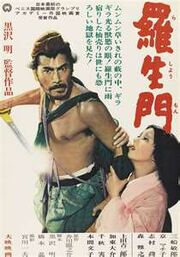 #236. Rashomon
Year: 1950
Country: Japan
Language: Japanese
Production: Daiei Films, 88m B&W
Director: Akira Kurosawa
Producer: Minoru Jingo
Screenplay: Akira Kurosawa, Shinobu Hashimoto, from short stories by Ryūnosuke Akutagawa
Photography: Kazuo Miyagawa
Music: Fumio Hayasaka
Cast: Toshirō Mifune, Masayuki Mori, Machiko Kyō, Takashi Shimura, Minoru Chiaki
Oscar Wins: Honorary Award (Foreign Language Film)
Oscar Noms: Best Art Direction
Venice Film Festival: Golden Lion
Abridged Book Description
Plotted with competing points-of-view in flashback style, framed with a fluid, moving camera, and shot under a canopy of dappled light, Rashomon details unreliable perspectives. The veracity of on-screen characters and depicted actions are therefore rendered false and misleading. Facts are submitted into evidence but immediately questioned. Disagreement among the overlapping stories of husband, wife, and bandit complicate straightforward reportage. In short, every narrator is untrustworthy, along with the overall film. Nothing less than an epistemological nightmare, Akira Kurosawa's Oscar winner still concludes with an infusion of moral goodness. Although Rashomon implicitly explores the lost possibility of renewal and redemption, its central theme about discovering truth as a distinction between good and evil is upheld through simple acts of kindness and sacrifice.
Community content is available under
CC-BY-SA
unless otherwise noted.