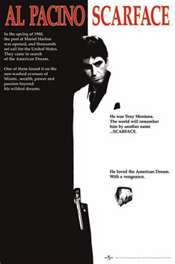 #732.
Scarface
Year: 1983
Country: USA
Language: English/Spanish
Production: Universal, 170m
Director: Brian De Palma
Producer: Martin Bregman
Screenplay: Oliver Stone, from 1932 screenplay by Howard Hawks
Photography: John A. Alonzo
Music: Giorgio Moroder
Cast: Al Pacino, Steven Bauer, Michelle Pfeiffer, Mary Elizabeth Mastrantonio, Robert Loggia, F. Murray Abraham, Harris Yulin
Abridged Book Description
Brian De Palma's updated remake of Howard Hawks' 1932 gangster classic Scarface is bloody, excessive, outrageous, and brilliantly crafted - and it sports a unforgettably histrionic performance from Al Pacino. When it first appeared, the film seemed like a striking departure for De Palma, away from Hitchcockian games with voyeurs, rear windows, and doppelgangers. Seen today, Scarface is quintessential De Palma, a treatise on the fragile conditions of male selfhood and power politics.
Community content is available under
CC-BY-SA
unless otherwise noted.