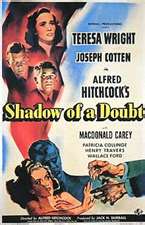 #173.
Shadow of a Doubt
Year: 1943
Country: USA
Production: Universal Pictures, 108m B&W
Director: Alfred Hitchcock
Producer: Jack H. Skirball
Screenplay: Thornton Wilder, Sally Benson, Alma Reville
Photography: Joseph A. Valentine
Music: Dimitri Tiomkin
Cast: Teresa Wright, Joseph Cotton, Macdonald Carey, Patricia Coolidge, Henry Travers
Oscar Noms: Best Screenplay
Abridged Book Description
When interviewed by admirer and famous acolyte François Truffaut, Alfred Hitchcock referred to Shadow of a Doubt as his favorite film. Tellingly, it's also one of his least flashy works, a quiet character study set in the heart of suburbia. Although the heart of his suburbia is still rotten with murder and deceit, Hitchcock emphasizes traditional suspense beats over intricate set pieces, stocking the story with just as much uneasy humor as suspense... Dimitri Tiomkin's score keeps the suspense ratcheted up, particularly his use of Franz Lehar's "Merry Widow" waltz - the signifier of Uncle Charlie's guilt and the haunting motif that represents the horrific inclinations he can barely disguise or suppress. A pair of nosey neighbors also offer a running commentary, discussing the various means and methods by which a murder might be committed and then covered up. That a real murder lurks right next door provides dollops of ironic humor.
Community content is available under
CC-BY-SA
unless otherwise noted.