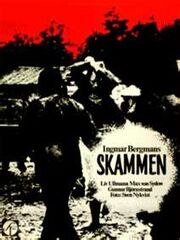 #509. Shame (Skammen)
Year: 1968
Country: Sweden
Language: Swedish
Production: AB Svensk, 103m B&W
Director: Ingmar Bergman
Producer: Lars-Owe Carlberg
Screenplay: Ingmar Bergman
Photography: Sven Nykvist
Cast: Liv Ullmann, Max von Sydow, Sigge Fürst, Gunnar Björnstrand, Ulf Johansson
Abridged Book Description
Of the films Ingmar Bergman made in the mid-to-late 1960s with Max von Sydow and Liv Ullmann on his beloved island of Faro, Shame is perhaps the greatest... This study of the devastating effects of war on a couple is one of the most persuasive accounts of a relationship transformed by forces over which it has little or no control.
Community content is available under
CC-BY-SA
unless otherwise noted.