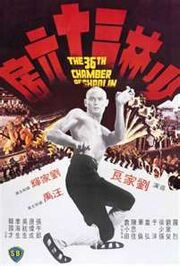 #664.
Shaolin Master Killer (Shao lin san shi liu fang)
Year: 1978
Country: Hong Kong
Language: Cantonese/English
Production: Shaw Brothers, 115m
Director: Liu Chia-Liang
Producer: Mona Fong, Run Run Shaw
Screenplay: I Kuang
Photography: Huang Yeh-tai
Music: Chen Yung-Yu
Cast: Gordon Liu, Lo Lieh, Wang Yu, Yu Yang, Hsu Shao-Chiang, Wu Hang-Sheng
Abridged Book Description
Edit
Chia-Liang Liu is nothing less than the best fight choreographer ever to work in the Hong Kong film industry. After cutting his teeth as the martial arts director for many on Chang Cheh's best films, he made the move to the director's chair, bringing his unparalleled kinetic sense with him. Nowhere are Liu's visual gifts more apparent than in Shaolin Master Killer... And this isn't even to mention the fight scenes. Suffice it to say, they can't possibly leave you disappointed.