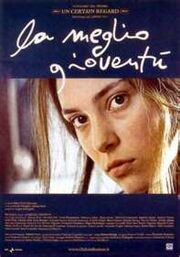 #1059.
The Best of Youth (La meglio gioventù)
Year: 2003
Country: Italy
Language: Italian
Production: BiBi, Miramax, 400m
Director: Marco Tullio Giordana
Producer: Angelo Barbagallo
Screenplay: Sandro Petraglia, Stefano Rulli
Photography: Roberto Forza
Cast: Luigi Lo Cascio, Alessio Boni, Adriana Asti, Sonia Bergamasco, Fabrizio Gifuni, Maya Sansa, Jasmine Trinca
Cannes Film Festival: Un Certain Regard Award
Abridged Book Description
Tracing the lives of two brothers for nearly four decades, The Best of Youth wastes not a second of its six-hour screen time, giving its characters the space they need to live and allowing their shared story to unfold like a great novel... The Best of Youth never allows national events to outweigh the domestic drama. Rather, Italian history is told through the prism of family, with happenings both personal and political carrying equal weight.
Community content is available under
CC-BY-SA
unless otherwise noted.