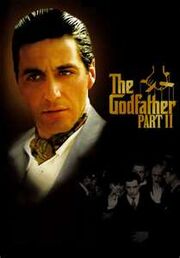 #603. The Godfather: Part II
Year: 1974
Country: USA
Language: English/Italian
Production: Paramount, 200m
Director: Francis Ford Coppola
Producer: Francis Ford Coppola, Gray Frederickson, Fred Roos
Screenplay: Francis Ford Coppola, Mario Puzo, from book by Mario Puzo
Photography: Gordon Willis
Music: Nino Rota, Carmine Coppola
Cast: Al Pacino, Robert Duvall, Diane Keaton, Robert De Niro, Talia Shire, Morgana King, John Cazale, Mariana Hill, Lee Strasberg
Oscar Wins: Best Picture, Best Director, Best Supporting Actor (De Niro), Best Screenplay, Best Art Direction, Best Original Score
Oscar Noms: Best Actor, Best Supporting Acotr (Gazzo, Strasberg), Best Supporting Actress, Best Costume Design
Abridged Book Description
This follow-up to the 1972 landmark original is an essential companion piece, "haunted" as writer-director Franciz Ford Coppola intended, by "the specter" of the first film. Ironically, considering that Coppola was nearly fired from the first movie - and was so worried about his financial situation that he was holed up in a hotel room scripting The Great Gatsby as The Godfather opened. After the film's enormous success Paramount wanted a sequel from him so badly they made him an offer he couldn't refuse. Besides receiving a hefty portion of the profits, he would also have complete artistic control. The Godfather: Part II took six Oscars...and is darker, more profound, and arguably even more compelling for its elaboration of power's corruption into complete moral decay.
Community content is available under
CC-BY-SA
unless otherwise noted.