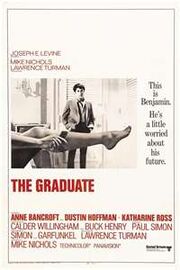 #481. The Graduate
Year: 1967
Country: USA
Production: Embassy Pictures, 105m
Director: Mike Nichols
Producer: Joseph E. Levine, Lawrence Turman
Screenplay: Calder Willingham, Buck Henry, from book by Charles Webb
Photography: Robert Surtees
Music: Dave Grusin, Paul Simon
Cast: Anne Bancroft, Dustin Hoffman, Katharine Ross, William Daniels, Murray Hamilton, Elizabeth Wilson
Oscar Wins: Best Director
Oscar Noms: Best Picture, Best Actor, Best Actress, Best Supporting Actress, Best Screenplay, Best Cinematography
Abridged Book Description
As unlikely as it sounds today, The Graduate struck many moviegoers as daring, even a bit scandalous when it opened in 1967, a year when the decade's much-vaunted sexual revolution was still struggling to take hold... If any mainstream movie hammered the last nail into the coffin of midcentury "momism," this was it. Neither motherhood, suburbia, nor the suffocating fog of postwar middle-class mores would ever seem quite the same.
Community content is available under
CC-BY-SA
unless otherwise noted.