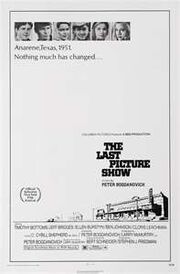 #557.
The Last Picture Show
Year: 1971
Country: USA
Production: BBS, Columbia, 118m B&W
Director: Peter Bogdanovich
Producer: Stephen J. Friedman
Screenplay: Larry McMurtry, Peter Bogdanovich, from book by Larry McMurtry
Photography: Robert Surtees
Music: Hank Williams, John Philip Sousa
Cast: Timothy Bottoms, Jeff Bridges, Ellen Burstyn, Ben Johnston, Cloris Leachman, Cybill Shepherd, Clu Gulager
Oscar Wins: Best Supporting Actor (Johnson), Best Supporting Actress (Leachman)
Oscar Noms: Best Picture, Best Director, Best Supporting Actor (Bridges), Best Supporting Actress (Burstyn), Best Screenplay, Best Cinematography
Abridged Book Description
An ardent formalist at a time when his early '70s peers were spending their time breaking rules, Peter Bogdanovich doggedly stuck to old-fashioned ideals and ideas when directing The Last Picture Show. In this sense, his adaptation of Larry McMurtry's novel stands as a eulogy for the previous generation of master filmmakers (like Howard Hawks or John Ford) as a new generation of youthful pioneers steered filmmaking in a looser, more visceral direction... The film is like a wake for an entire era, ripe with tragedy and exuding a heavy pall of unmistakable sadness.
Community content is available under
CC-BY-SA
unless otherwise noted.