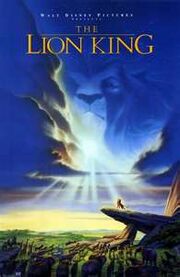 #903. The Lion King
Year: 1994
Country: USA
Language: English/Swahili
Production: Walt Disney, 89m
Director: Roger Allers, Rob Minkoff
Producer: Don Hahn
Screenplay: Irene Mecchi, Jonathan Roberts, Linda Woolverton
Music: Hanz Zimmer, Elton John, Tim Rice
Cast: (voices) Matthew Broderick, Jeremy Irons, James Earl Jones, Johnathan Taylor Thomas, Moira Kelly, Nathan Lane, Ernie Sabella, Rowan Atkinson
Oscar Wins: Best Original Score, Best Original Song
Oscar Noms: 2x Best Original Song
Abridged Book Description
This animated adventure works so well because it has all the elements of a terrific movie and plenty of action and adventure. The lion cub scenes appeal to small children and the impressive animation causes even adult jaws to drop. The film has a classic story arc as the carefree cub becomes a wise and respected lion... The Lion King is surprisingly moving, relating as we are only to cartoon characters, particularly in the relationship between Simba and his father and the ending to turn-grown-men-into-a-blubbering-pile-of-mush.
Community content is available under
CC-BY-SA
unless otherwise noted.