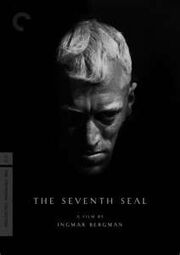 #332. The Seventh Seal (Det sjunde inseglet)
Year: 1957
Country: Sweden
Language: Swedish
Production: Svensk, 96m B&W
Director: Ingmar Bergman
Producer: Allan Ekelund
Screenplay: Ingmar Bergman
Photography: Gunnar Fischer
Music: Erik Nordgren
Cast: Gunnar Björnstrand, Bengt Ekerot, Nils Poppe, Max von Sydow, Bibi Andersson, Inga Landgré, Åke Fridell
Cannes Film Festival: Special Jury Prize
Abridged Book Description
The image of a black-robed, white-faced Death (Bengt Ekerot) playing chess on the beach with a weary, questioning crusader (Max von Sydow) is as deeply-ingrained in the collective memory of moviegoers as King Kong atop the Empire State Building, Humphrey Bogart spurning Ingrid Bergman at the airport, Janet Leigh stabbed in the shower, or the Imperial Cruiser passing over the camera. This one scene from the Swedish arthouse release The Seventh Seal epitomizes the momentousness, the excitement, and the impact new types of cinema had at a point when Hollywood certainties were in recession... Bergman is always angry and saddened by human evils, especially when sanctioned by supposed religion, but the film also celebrates physical and spiritual love, communal artistic expression, food and drink, and natural beauty.
Community content is available under
CC-BY-SA
unless otherwise noted.