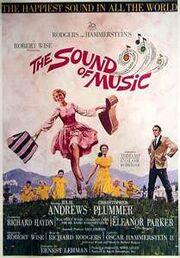 #455. The Sound of Music
Year: 1965
Country: USA
Production: Fox, 174m
Director: Robert Wise
Producer: Robert Wise
Screenplay: Ernest Lehman, Howard Lindsay, Russel Crouse, from musical by Rodgers & Hammerstein, and book by Maria von Trapp
Photography: Ted D. McCord
Music: Rodgers & Hammerstein, Irwin Kostal
Cast: Julie Andrews, Christopher Plummer, Eleanor Parker, Richard Haydn
Oscar Wins: Best Picture, Best Director, Best Editing, Best Original Score, Best Sound Mixing
Oscar Noms: Best Actress, Best Supporting Actress, Best Cinematography, Best Art Direction, Best Costume Design
Abridged Book Description
It is all too easy to knock Robert Wise's enormously successful screen adaptation of Rodgers and Hammerstein's musical hit, what with singing nuns and a kind-of-cute clutch of seven kids coping with the double trouble of an absurdly disciplinarian widower father and the rise of the Nazi regime in 1930s Salzburg. But one should never underestimate the effectiveness of the lead performances... There is also the unsentimental precision of Ernest Lehman's script, and the solid, unshowy expertise of Wise's direction, in which his editor's sensitivity to structure, rhythm, and rhyming juxtapositions is always evident.
Community content is available under
CC-BY-SA
unless otherwise noted.