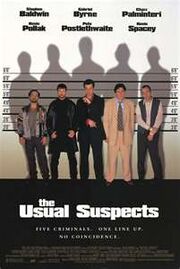 #939. The Usual Suspects
Year: 1995
Country: USA/Germany
Language: English/Hungarian/Spanish/French
Production: Bad Hat Harry, Blue Parrot, PolyGram, Gramercy, Spelling, 106m
Director: Bryan Singer
Producer: Kenneth Kokin, Michael McDonnell, Bryan Singer
Screenplay: Christopher McQuarrie
Photography: Newton Thomas Sigel
Music: John Ottman
Cast: Stephen Baldwin, Gabriel Byrne, Benicio del Toro, Chazz Palminteri, Kevin Pollak, Pete Postlethwaite, Kevin Spacey
Oscar Wins: Best Supporting Actor, Best Screenplay
Abridged Book Description
The Usual Suspects is an absorbing confidence trick concerning the identification of a criminal archfiend: Who is Keyser Soze? With its convoluted plotting, macho repartee, and Bryan Singer's confident direction, the great trick the filmmakers pulled was convincing audiences to see the movie again immediately... Singer delights in sleights of hand, like a camera dissolve into a swirling cup of coffee and a thrilling elevator shaft assassination, that make one forgetful of loose ends... The ultimate accolade is that one can't say the film doesn't hold up. It may not add up, but it remains a madly intriguing puzzle.
Community content is available under
CC-BY-SA
unless otherwise noted.