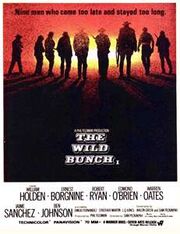 #522. The Wild Bunch
Year: 1969
Country: USA
Language: English/Spanish
Production: Warner Bros.-Seven Arts, 145m
Director: Sam Peckinpah
Producer: Phil Feldman
Screenplay: Sam Peckinpah, Walon Green
Photography: Lucien Ballard
Music: Jerry Fielding
Cast: William Holden, Ernest Borgnine, Robert Ryan, Edmund O'Brien, Warren Oates
Oscar Noms: Best Screenplay, Best Original Score
Abridged Book Description
A Hemingwayesque answer to the Erich Segal-ish Western revisionism of Butch Cassidy and the Sundance Kid (1969), The Wild Bunch is at once disgusting and romantic, investigating the thesis that "even the worst of us" want to be children again - "perhaps the worst of us most of all"... The Wild Bunch drags the cowboy movie myth into an age of mass-produced murder symbolized aptly by the Gatling gun and the Model-T Ford. Shot through with whiskery Western eccentricity, including a hilarious double act from L.Q. Jones and Strother Martin as human vultures, and a great deal of picturesque dialogue, this was the film that reclaimed the American tradition of the Western back from the Italians and proved that Peckinpah could pop more blood capsules than Sergio Leone.
Community content is available under
CC-BY-SA
unless otherwise noted.