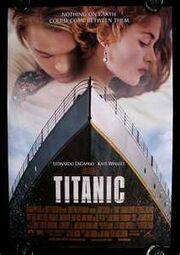 #962. Titanic
Year: 1997
Country: USA
Production: Fox, Paramount, Lightstorm, 194m
Director: James Cameron
Producer: James Cameron, Jon Landau
Screenplay: James Cameron
Photography: Russell Carpenter
Music: James Horner
Cast: Leonardo DiCaprio, Kate Winslet, Billy Zane, Frances Fisher, Gloria Stuart
Oscar Wins: Best Picture, Best Director, Best Cinematography, Best Editing, Best Art Direction, Best Costume Design, Best Visual Effects, Best Original Score, Best Original Song, Best Sound Editing, Best Sound Mixing
Oscar Noms: Best Actress, Best Supporting Actress, Best Makeup
Abridged Book Description
The story behind James Cameron's labor of love is almost more dramatic than the tale that unfolds on screen. With a reported budget of $200 million, even before its release Titanic was given the dubious honor of being the most expensive production of all time. Much of the cost went to a six-month shoot in Mexico involving a 775-foot replica of the famous boat... Rumors that Cameron was a crazed perfectionist emerged... But, following the film's stupendous box-office success and the most Academy Awards since Ben-Hur (1959), he was rechristened a genius, and is now deservedly considered one of the most successful directors of all time... In terms of production size and sheer epic scale, Titanic remains one of the most impressive films of all time.
Community content is available under
CC-BY-SA
unless otherwise noted.