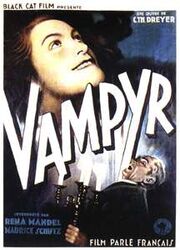 #66. The Vampire (Vampyr)
Year: 1931
Country: Germany
Language: German
Production: Tobis Klangfilm, 83m B&W
Director: Carl Theodor Dreyer
Producer: Carl Theodor Dreyer, Julian West
Screenplay: Carl Theodor Dreyer, Christen Jul, from the short story by Sheridan Le Fanu
Photography: Rudolph Maté, Louis Née
Music: Wolfgang Zeller
Cast: Julian West, Maurice Schutz, Rena Mandel, Sybille Schmitz
Abridged Book Description
The greatness of Carl Theodor Dreyer's first sound film derives partly from its handling of the vampire these in terms of sexuality and eroticism and partly from its highly distinctive, dreamy look, but it also has something to do with the director's radical recasting of narrative form. Synopsizing the film not only betrays but also misrepresents it: While never less than mesmerizing, it confounds conventions for establishing point of view and continuity, and inventing a narrative language all its own... If you've never seen a Dreyer film and wonder why many critics regard him as possibly the greatest of all filmmakers, this chilling horror fantasy is the perfect place to begin to understand.
Community content is available under
CC-BY-SA
unless otherwise noted.