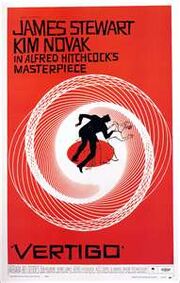 #347.
Vertigo
Year: 1958
Country: USA
Production: Paramount, 128m
Director: Alfred Hitchcock
Producer: Alfred Hitchcock
Screenplay: Alec Coppel, Samuel A. Taylor, from book by Pierre Boileau and Thomas Narcejac
Photography: Robert Burks
Music: Bernard Herrmann
Cast: James Stewart, Kim Novak, Barbara Bel Geddes, Tom Helmore, Henry Jones
Oscar Noms: Best Art Direction, Best Sound Mixing
Abridged Book Description
Though director Alfred Hitchcock was then at the height of his critical success and commercial fame, Vertigo was not a well-liked film at the time of its release. Most criticism focused on the intricate and unlikely plot dependent on a fiendishly implausible murder scheme on the part of a thinly characterized villain, whose exposure is about as much of a surprise as the ending of your average Scooby-Doo episode. The climax is so concerned with something else that the killer seems to get away with it... But during a lengthy period in which Vertigo was unavailable for copyright reasons, the film was critically reassessed. Now it is held to be one of the Master's greatest works... In all, Vertigo is a gorgeous, disturbing, icily romantic film, with steel gray Technicolor images, evocative moments of close-up surrealism, and an insistent, probing Bernard Herrmann score.
Community content is available under
CC-BY-SA
unless otherwise noted.